MODERN PRODUCER'S WAY: Working from home studio gives you flexibility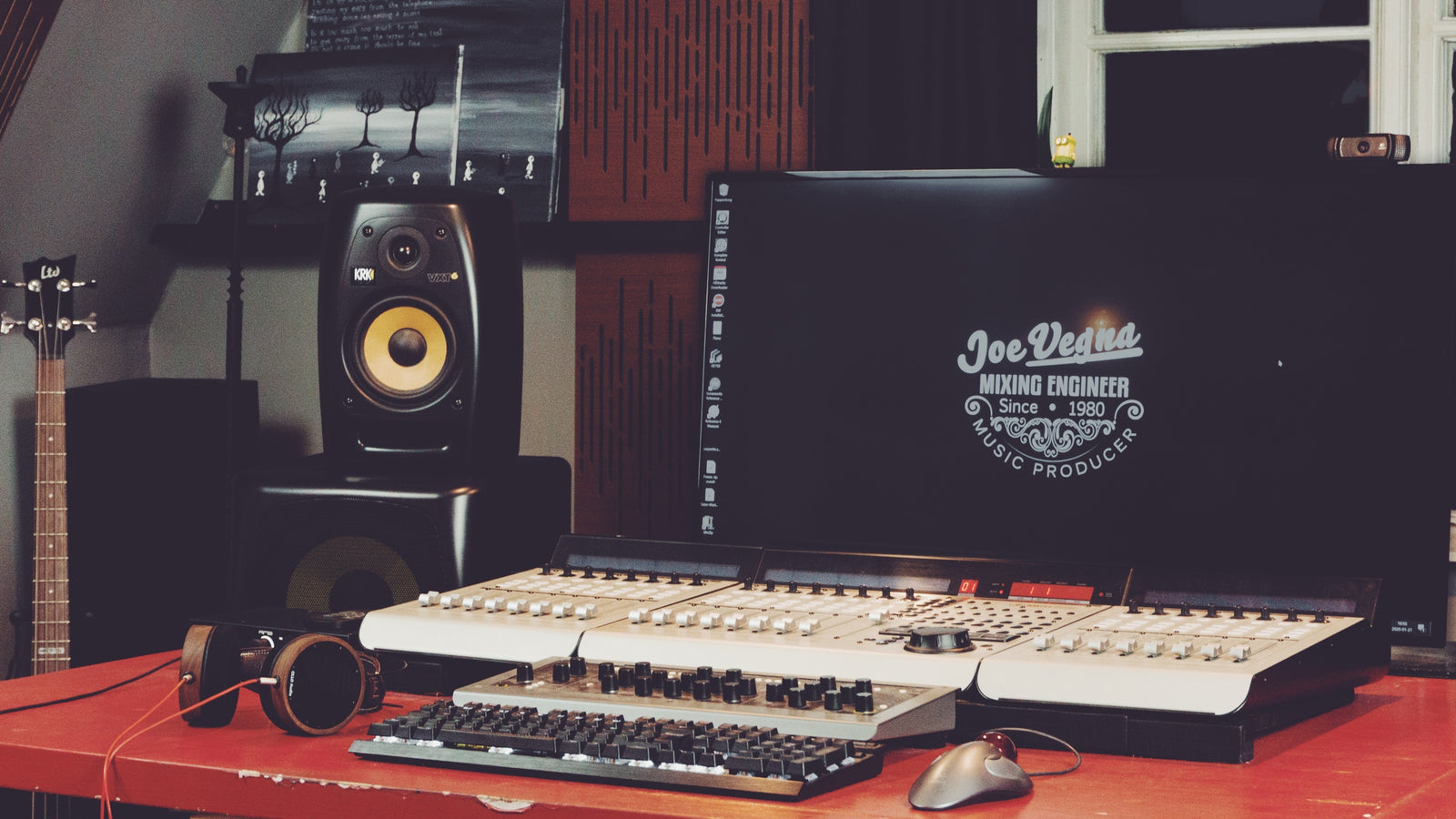 Owning a studio is not a must anymore. You can rent when you really need it and you can polish 90% or more just using headphones and basic home setup.
Meet Joe:
I'm a mixing engineer and music producer based in Sweden. I've been working with music my whole life and never really done anything else. Through the years I've been doing a lot of live shows and quite a bit of touring as a sound engineer. Last few years I've focused more on studio work and nowadays I only do 2-3 live shows per month.
 I made a total makeover of my studio in early 2020. I upgraded my speakers to a 3-way system and made a massive improvement to the acoustic in the room. The new studio is better suited for attended sessions and as I lean more and more into mastering it was time to step up the listening environment outside the headphones. That said I still mix about 99% in headphones.
IN CASE I NEED SOMETHING SPECIFIC, I RENT
To me, it doesn't make sense to own a big studio. When I record music I can rent a studio that suits my needs for a day and then go back to my own studio for edits and mix. If I need a big console I can choose a studio with SSL or API or Neve or whatever. And if I just need a good sounding room I can bring my own gear and just rent the recording room, not the control room. And since I always have my Ollo headphones I don't really need to adapt to different listening environments. To me, that's a great way of working and is super flexible for both me and my clients. All I need fits in a backpack. That said I'm always evolving and if you talk to me in a year from now I might own a big studio and argue it makes total sense.
OTHERWISE, MY HOME STUDIO IS ALL I NEED
My setup today looks like this. The heart of it all is a Dell Precision i9 laptop with a 40" external monitor. For extra processing power, I have a UAD-2 Satellite octo. The DA converter is an RME ADI-2 DAC that combined with the Ollo S4 is a match made in heaven. I also have a pair of KRK vxt6 monitors with 2 KRK 10" subs. I mix a lot with physical control units. I have a Mackie MCU PRO with 2 extenders giving me 24 faders in 8 layers. Well, actually infinite amount of layers but 8 with quick commands. In conjunction with the faders, I also have a Softube Console 1. Those units really help me mix fast.
"The Ollo S4 changed everything for me. Now I mix about 99% in headphones. That makes it extremely flexible working in different studios or even on the road. I could not be more satisfied"
When it comes to software I use Reaper as my main DAW. I mix 100% in the box unless the client for some reason insists on using analog gear. I use plugins from most companies but the ones that I really love are from Acustica Audio and UAD.
EFFECTIVE SOLUTION FOR WORKING WITH CLIENTS REMOTELY
I also use a solution that lets the client be a part of the session remotely. It's a combination of screen sharing and audio streaming. So the client can sit anywhere in the world and watch and listen to what I'm doing with about 1-2 seconds delay. And of course comment in order to get real-time adjustments. 
Here is the process described in details with screen captures of the software:
The system I use for working remotely with clients is based around a few applications. For the audio, I use a plugin called "Listento" from Audio Movers, https://audiomovers.com/. It lets the client listen to my sound in real-time with lossless audio. From anywhere in the world. It is super simple but extremely powerful. The best thing is that the client doesn't need any extra software, it works within the browser. I send the client a link and we are up and running. Simple as that. 
I combine this with a standard communications app like Facetime or Messenger so that I can communicate with the client while working. If I need to share my screen I just use Zoom or Skype. But often it's better if the client doesn't look at my screen. It makes them focus more on the sound and less on the visuals.  
One of the biggest benefits of this system is that the client can listen in their own monitor system. I love having attended sessions but since the client is not used to my listening environment it's a bit counterproductive. This solution is kind of the best of both worlds. We can work together, but each with their own monitor setup.  This works very well and I really think this is the future for mixing and mastering. And who knows, perhaps Audio Movers will include video and screen sharing in the future to make the whole experience even more seamless. 
Connect with Joe:
https://www.facebook.com/joevegna
https://www.instagram.com/joevegna
http://www.joevegna.com
 




---